THE First Days of School, 5th edition - eBook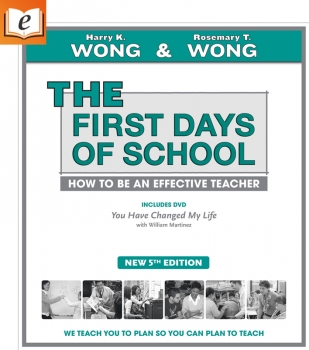 THE First Days of School, 5th edition - eBook
The 5th edition has just been released! Over 4 million copies have been sold of the preeminent book on classroom management and teaching for lesson achievement. This "bible" for all teachers helps you to practice the three characteristics of an effective teacher: Classroom Management, Lesson Achievement, and Positive Expectations.
Suggested Retail Price: 35.00
eBook
---
Access Info

The 5th edition of THE First Days of School is also available in digital format. We have paired with this vendor to offer the eBook to our customers. We are working on creating additional versions of the book as well, including a Kindle and Brytewave version. Check back periodically for the availability of these other formats.

Click the link below to be taken direclty to the vendor's online store and THE First Days of School.

Please note:

The eBook version of the 5th edition of THE First Days of School does not include access to the DVD, You Have Changed My Life, that is included free with the printed edition of the book. The DVD is only available with the printed book.

Pricing

The company that sells this eBook is an independent vendor and establishes the price for the eBook.