THE Classroom Management Course — UPDATED! Coming soon!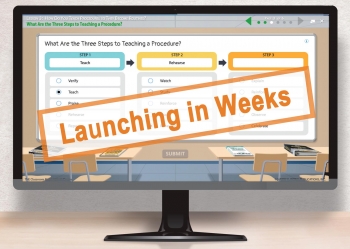 THE Classroom Management Course — UPDATED! Coming soon!
Our course has been updated and features eight interactive units led by Harry and Rosemary Wong. It is still in testing but will be available soon. Put your name on a waitlist to be notified when it is ready and we will give you a $10 discount for your patience and understanding. Click here to be put on the waitlist. We guarantee that the wait will be worth it.

eLearning Course
---
Publisher-Direct Price: $86.95
Unit Titles

THE Classroom Management Course

Welcome: Helping You Reach Your Teaching Potential

Lesson 1: What Is Classroom Management?

Lesson 2: How Do You Create a Classroom Management Plan?

Lesson 3: How Do You Teach Procedures so They Become Routines?

Lesson 4: How Do You Organize Your Classroom with Procedures?

Lesson 5: What Are the Essential Procedures for Every Classroom?

Lesson 6: What Are the Benefits of a Schoolwide Plan?

Conclusion: It's Time to Execute

Professor Preview

To arrange for a 5-day preview of our updated eLearning course as soon as it is available, please contact Maria Silva at 650-965-7840 or email her at MSilva@HarryWong.com. We will contact you as soon as the course is available to preview.