That Noble Title Teacher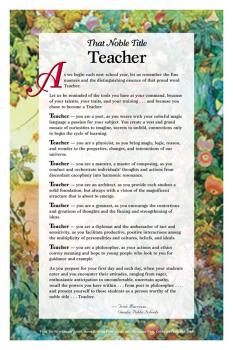 That Noble Title Teacher
This motivational essay is presented in a beautifully designed poster printed on glossy, heavyweight paper. The text was written by a teacher and will strike a chord with anyone in education. Give it as a gift or frame it and hang it in the classroom and use it to remind yourself of the dignity of the teaching profession.

Poster
---
Publisher-Direct Price: $5.95 (includes shipping within Continental US)
Overview

That Noble Title Teacher was written by a Nebraska educator. She compares the qualities of teachers to that of other honored professions. Her conclusion is that teachers transcend all of those professions and have powers to affect incredible change in students.

The full text for this poster can be found on page 27 in the current edition of The First Days of School.

This poster is a compelling reminder of our responsibility to children and the profession.

Written by: Trish Marcuzzo
12" x 18" color poster

Volume Pricing

We are pleased to offer a savings for quantity orders of That Noble Title Teacher.

Click here to download a complete list of our products and the volume pricing we offer.