Other Effective Teaching Items
At Harry K. Wong Publications, everything is done with a singular purpose—to make you the most effective teacher you can possibly be. Our core values drive our decisions each day in how we create materials, how we interact with our customers, and how we give back to the world.
We strive to create materials that make you proud that you have chosen the teaching profession. We offer hope and a path for achieving your dream and celebrate you when that happens. We respect your time and your pocketbook and provide value for all of the items we offer.
While something like a poster may seem trivial, the words bring impact to the enormity of the job you do. It is a constant reminder that teaching is the bedrock for humanity and indeed the noblest of all professions.
Our outreach and influence extend worldwide. We send items to Africa to train teachers; we hand carry teaching supplies to remote villages on our journeys; we have built and sustain a K-12 school deep in the jungle of Cambodia in an area that never had a school. We believe that education is a right for all children and that children deserve a quality, effective teacher.
It is with much passion that we travel our path of delivering quality materials on effective teaching and will exhaust all means to provide a product that brings dignity to the profession. Enhancing the lives of teachers and students may seem like a trait adage, but they are words we live by each day.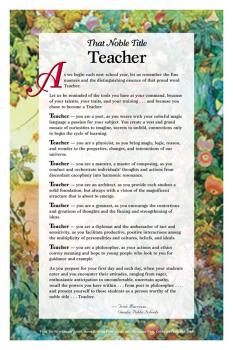 This motivational essay is presented in a beautifully designed poster printed on glossy, heavyweight paper. The text was written by a teacher and will strike a chord with anyone in education. Give it as a gift or frame it and hang it in the classroom and use it to remind yourself of the dignity of the teaching profession. Learn more.

Poster
---
Publisher-Direct Price: $5.95 (includes shipping within Continental US)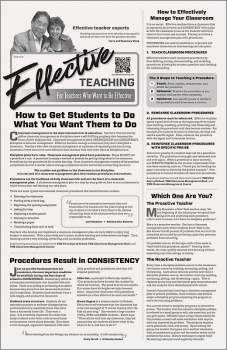 Formerly called Successful Teaching, this eight-page newspaper is published periodically for practicing classroom teachers. It is filled with teaching tips and techniques that are easy to implement in any classroom. The articles shared enhance the content of many of our products. It is available for immediate download for free or in bulk for a small fee. Learn more.

Newspaper
---