I choose to CARE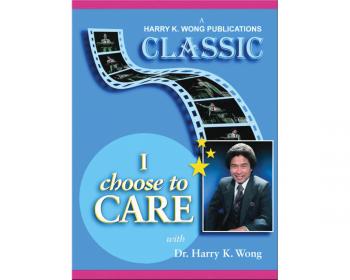 I choose to CARE
This "classic" video of Harry Wong is what started it all. The presentation has been remastered as a DVD and captures the exciting performer that he is. It is an hour long motivational talk that offers concrete, practical, and applicable classroom suggestions for educators. The information is timeless.

DVD
---
Publisher-Direct Price: $14.95
Overview

Through the years, no one is better than Harry Wong as an educational speaker and this DVD is proof. Recorded live before an audience of 3,200 district employees 20 years ago, you'll still laugh, cry, and be motivated to change after watching this presentation.

I choose to CARE suggests methods to raise student expectations, improve test scores, bring out the best in teachers, and produce responsible and productive citizens. The theme of the presentation is that the choices we make create exciting and caring classrooms.

This is the perfect DVD to lift the spirits of a staff or for personal enhancement. It will remind you of why you went into education and how to translate that care into useable classroom techniques for a maximum teacher and student classroom experience.

Its timeless message will stir and renew your professional soul.

60-minute DVD
Heavy cardboard holder

I choose to CARE is also available in a digital format as streaming video. Access the Digital customers link for more information.

Volume Pricing

We are pleased to offer a savings for quantity orders of I choose to CARE.

Click here to download a complete list of our products and the volume pricing we offer.